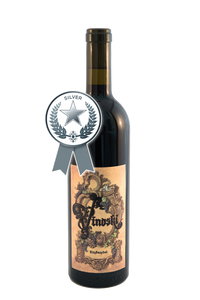 Zinfandel - Case of 12
Vinoski Winery
Regular price $384.00 Sale
This item is a case of twelve (12) bottles.
Tart black cherries and plums with a velvety pepper finish. 
This is what classic old vine Zin should taste like: seamless decadent fruit held in balance by super-velvety-smooth, chalky tannins - a big brawny brooding Zin. Black cherries and plums come to mind imagining the fruit, then followed by a sort of melted-dark-chocolate-with-coffee experience providing a long, satisfying finish.
This world-class experience should be shared with a juicy thick New York steak with seared-on grill marks.
The optimal drinking window for the 2017 Zinfandel is from production until 2028.